FREQUENTLY ASKED QUESTIONS
We see individuals, couples, families, and groups. We work with clients with a wide array of concerns and problem areas.
There is no set number of sessions required. The number of sessions depends on the need of the clients related to their concern or issue. Typically, you may give yourself at least four (4) consecutive sessions to observe significant change.
There is no definitive answer to this question. Though it's safe to say more than a session or two is necessary to make any headway on what brings someone in, some individuals find a few sessions are sufficient, while others choose to continue long-term (over 20 sessions).
Psychotherapy is most effective when it's weekly but if there are limitations like time and resources, it can be every other week. Gradually, depending on the client's progress, the sessions can be tapered off. Decisions regarding therapy sessions are made after dialogue between therapist and client.
Everything taken up during a counseling/therapy session shall be strictly confidential. No party may record (i.e., audio and/or video) the same, or any portion thereof. Information I disclose or share during a session shall only be released with my permission, except in the following cases in a manner consistent with applicable laws and regulations:
a. If the counselor determines risk of self-harm;
b. If the counselor determines risk of harm to others;
c. If the counselor is informed about or suspects abuse, neglect, or exploitation of a minor or of an incapacitated adult; or
d. If the counselor believes that someone's mental condition leaves the person gravely disabled.
Any violation of this confidentiality obligation may be subject to appropriate disciplinary action.
For couple's counseling, we usually recommend that each of you get an individual session first before going on a couple's session. We do the individual session first to prepare the couple individually and to see their individual perspective of the situation. However, if you and your partner are both ready and open to a couple's counseling session then we can go straight to that.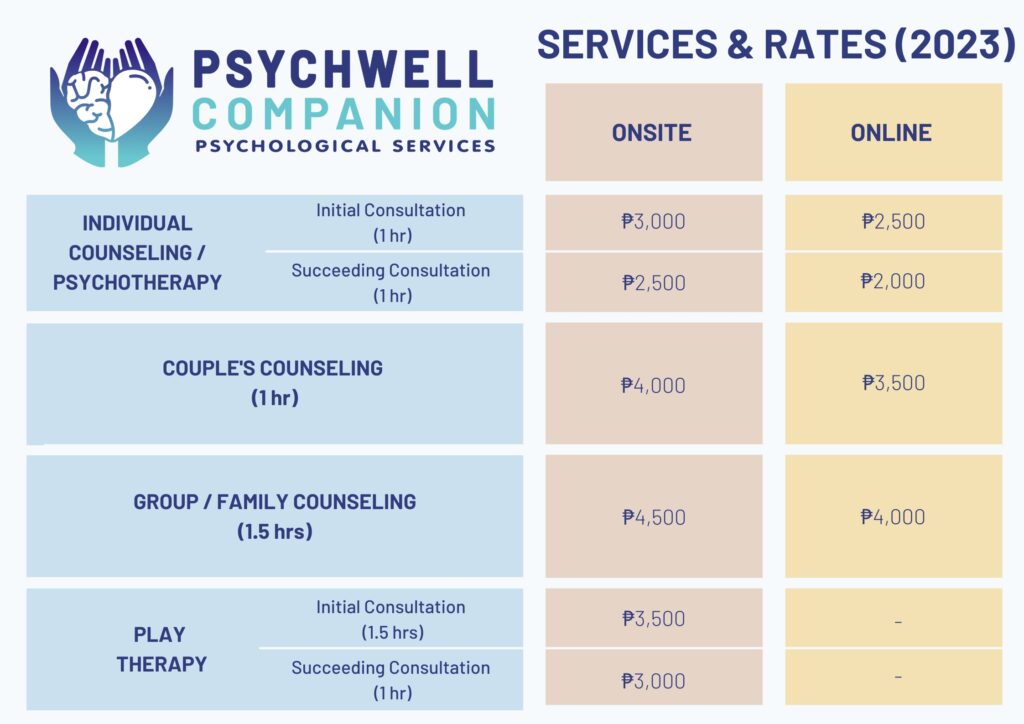 We accept payments through bank transfer and Gcash as well as credit card payments through PayPal. Payments through the PayPal portal will be subject to extra fees.
At present, we do not accept HMOs or other health insurances as payment. It is best to check with your HMO/health insurance provider if your coverage includes psychologist consultations.
Our clinic is located at Baliuag, Bulacan but we also accept online consultations.
Limited parking slot is available on-site.